These rings are truly out of this world. We have searched the globe for Authentic Gibeon Meteorite to make these one-of-a-kind wedding bands. This particular ring is made with Genuine Gibeon Meteorite, T-Rex Fossil and Cobalt Chrome. All of our rings include a deluxe comfort fit and lifetime warranty. As shown, the Gibeon Meteorite on this ring has been hand formed and acid etched by a highly trained artisan which really makes the Widmanstatten pattern stand out and the edges and contour flow smoothly.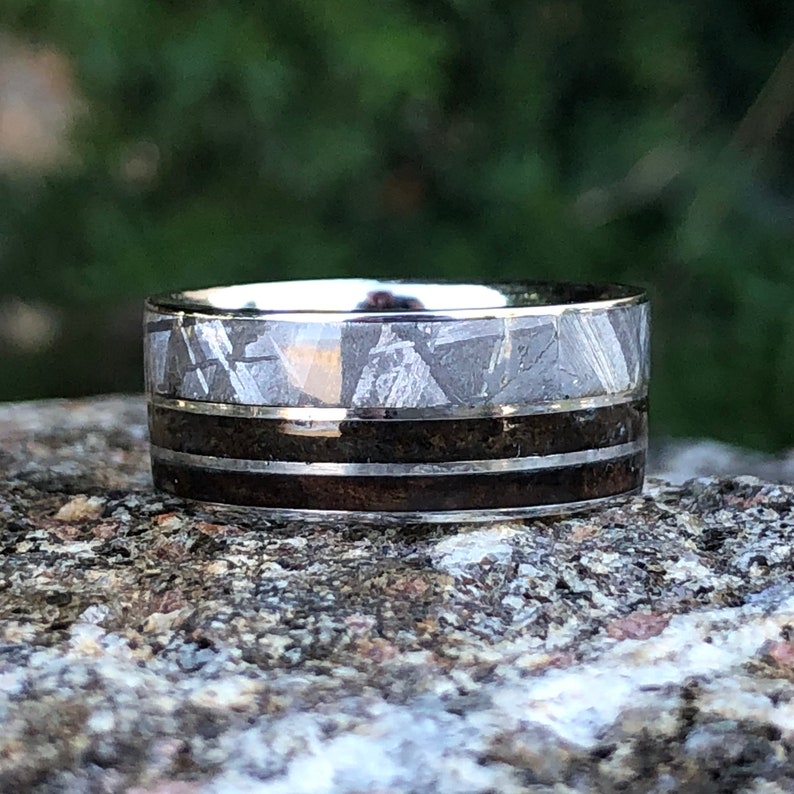 Manufactured With Authentic Gibeon Meteorite
Double Tyrannosaurus Rex Fossil Inlay
Premium Cobalt Chrome Sleeve
Deluxe Comfort Fit Design (Rounded Inside)
Available in sizes 4-17 in whole, half & quarter size increments
Shown 10mm Wide Ring
Important Note About Gibeon Meteorite Rings:
Unlike other other vendors, Renaissance Jewelry sends its raw Gibeon Meteorite off for independent 3rd party testing and verification. Unfortunately, there is a lot of simulated and counterfeit meteorite being passed off as "authentic" in the market, so it is important to purchase from a reputable vendor who also offers a certificate of authenticity. We make each and every one of our Meteorite rings in our shop, per Etsy policy, and do not outsource to a 3rd party where quality metrics cannot be verified or monitored. Our rings are made in the mountains of Utah once your order is placed.
If you are looking for a ring that is A+ quality to represent your love and last a lifetime then please give Renaissance Jewelry an opportunity to earn your business. Please also take a few moments and read our feedback so you can really see what our business model and company culture is all about. With over 4200 + 5 Star reviews and 17,000 + satisfied customers who have trusted us with their special symbol of love and special day, it is easy to see why we have become the #1 source for Authentic Gibeon Meteorite Rings in the world.
Thank you!
Renaissance Fine Jewelry
Cobalt Metal Details:
•Strength: Is wear-resistant (more scratch resistant than Titanium), high-strength (shatterproof and 5x harder than Gold) and hypoallergenic
•Color: Much whiter than Titanium bands (often compared to Platinum in appearance)
•Weight: Heavier in weight than Titanium (very similar in weight to Gold)
•Emergency Removal: Requires a separating disc, but these discs are readily available and make it possible for virtually any jewelry shop or emergency room to safely remove a Cobalt band.
SKU: COB-10F3G-14G-22G-Meteorite-T-Rex-Protective-Finish
Processing Time:
There is a 2-10 business day processing time depending on the complexity of the ring order. Each ring is made to order for you. We do our best to get every order out as soon as possible, as we do realize how important it is to you.
Have questions? Give us a call at (855)236-1100 or send us a message.
Accepted payment methods:
We accept payment via PayPal, major credit cards (AMEX, Discover, MasterCard & Visa) and Etsy gift cards. We use secure encryption to make sure your identity and payment are secure.
Shipping:
FREE US standard shipping takes 2-7 business days for delivery after the ring is shipped. Canadian shipping via standard USPS is $22.99 and everywhere else around the world is $25.99 via standard USPS. Please note that these shipping charges reflect the recent rise in postage cost for international shipping. If expedited shipping options are desired or needed, please contact us and we would be happy to help you get your ring sooner. Please review our shop listing for other shipping options & costs.
Please note that we reserve the right to require signature confirmation on any package we ship.
Size Exchanges:
We offer a hassle-free size exchange on your original order within 30 days of receipt. See our size exchange listing below for more details. This listing covers some of the costs associated with resizing your ring.
https://www.etsy.com/listing/508031108
Customers are responsible to ship the original order back to our shop for resizing and the costs associated with that return shipment. Once the exchange listing is purchased we will send you a return authorization form that needs to be filled out and included with your package.
Refunds:
We offer refunds within 30 days of receipt for any unworn, unaltered, and non-customized items. There is a small restocking fee of 20% for all items as each ring is made custom to order
Cancellations:
Please request a cancellation within 12 hours of purchase as we start work on your custom rings as soon as possible.
Customer satisfaction is our #1 priority. If any issue arises during your order with us, please contact us so we can work on resolving the matter with you. It is our goal to make sure you are 110% satisfied with all aspects of your purchase. We hope you enjoy your custom-made ring and think of us for any future jewelry (especially ring) needs!
Meteorite Rings, Meteorite Bands, Meteorite Engagement Rings, Meteorite Ring By The Jewelry Source are custom made to order by our skilled jewelers here in the USA.